---
---

---
Contact us by email or call us:
(205) 575-2264
---
Visit our host theatres!

---
All material contained on this site is
copyright © 2008-2023 ETC Productions and/or is used with permission. All rights reserved.
Venues, etc.

Birmingham Festival Theatre
1901˝ 11th Avenue South
Birmingham, AL 35205
(behind the Golden Temple at Five Points)
Visit their website at www.BFTonline.org.

PLEASE NOTE: Your car may be immobilized with a boot, and you may be fined $25 for parking in some lots in the vicinity of BFT! See this map for where NOT to park!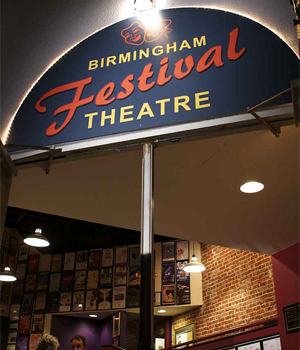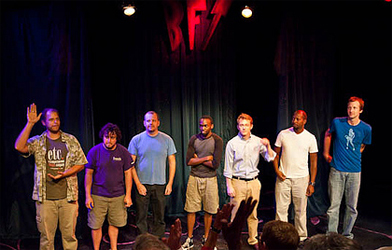 In the spring of 1972, three young Birmingham thespians—Carl Stewart, Randy Marsh, and Vic Fichtner—entered a new phase in their theatrical lives. After chafing under the artistic limitations of the area's production environments, they picked up the pieces of Bill Ozier's Actors Studio and began a venture they called Birmingham Festival Theatre.

In 1973, BFT moved to its current location at 1901˝ 11th Avenue South. A major capital campaign in 1987 raised funds that were used to fashion a lobby out of a loading dock, reinvent the performance space with fewer structural poles, and create bathrooms that weren't also dressing rooms.

Now, an all-volunteer board of directors strives to continue and build the traditions of Birmingham Festival Theatre—by supporting the exchange and development of theatrical talent, by reaching out to artists with a rich variety of visions, and by presenting shows that can be seen in Birmingham only at this theatre.

In the summer of 2008, the BFT Board of Directors worked with Extemporaneous Theatre Company to produce ETC's very first show. The short-form improv sensation "Project Codename: Vulcan's Underpants," an allusion to the Magic City's need to cover it's lack of live improv comedy, made its debut on August 23, 2008. In 2009 ETC's Douglas O'Neil, Jr. christened the BFT stage as "The Larry Langford Memorial Stage" in honor of the felonious then-mayor's near-brawl during a Five Points Merchants Association meeting that was held at BFT on May 13. While the BFT Board of Directors has not condoned nor codified this designation, it is used whenever ETC performs upon the stage.